Lean Six Sigma Yellow Belt Training, Exam and Certification
The Lean Six Sigma Yellow Belt is designed to provide an understanding of how Business Improvement leads to increased efficiency, reduced costs, improved quality and higher satisfaction for both customers and employees. The training is an introduction to Lean Six Sigma and is ideal for those new to the approach or thinking of using it in their place of work.
Yellow Belt training teaches you the methods so you can take an active role in business improvements. This training course provides an overview of the basic aspects to illustrate what it is, why it is used and how it transforms organisations.
Yellow Belts are not experts in Lean Six Sigma and do not run improvement projects, but they do work with colleagues to solve business problems.
Online Yellow Belt Training

By training online you can learn at your own pace and don't need to take time out of the office. With our exceptional support, a Master Black Belt is only an email away so you don't need to worry about going it alone. Our online Yellow Belt course is optimised for both desktops and tablets. You'll have access to the course for 1 month, so you can revisit your training at any time.
This interactive course comes with a British voiceover and includes activities. There are quizzes throughout the course to embed your learning, and you can re-take the exam multiple times.
Classroom Yellow Belt Training
Our classroom training is blended, which means we use a broad range of teaching methods to ensure you get the best learning outcomes. Unlike traditional classroom training, our courses involve active participation, one-to-one coaching and self-led online study so they fit every learning style.
The blended approach in this Yellow Belt classroom course is proven to be a more effective way of learning and provides a faster return on investment than traditional methods. After two days in the classroom, you'll learn all the skills you need to feel confident joining Lean Six Sigma projects and improvements.
We offer unparalleled lifelong learning support, and provide 1 month free access to the associated online training course. And, we're so confident, that we guarantee you will pass the exam and certify.
London, Manchester, +more
Included with this course: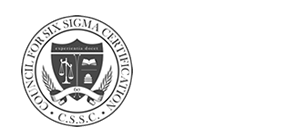 Course content
This Yellow Belt course is a thorough introduction to Lean Six Sigma and provides an internationally recognised Lean Six Sigma Yellow Belt certificate.
On this course you will learn about Lean and Six Sigma and the benefits of structured business improvement. You'll also come to know the roles, responsibilities and structure of Lean Six Sigma. The training follows the DMAIC framework and includes an overview of each of the phases, as well as the key tools used in each.  DMAIC stands for Define, Measure, Analyse, Improve and Control.
Whichever way you choose to study for your Yellow Belt, you'll get the same great quality of training. You'll also get 1 month access to the online training, course materials, and the ongoing support of a Master Black Belt if you need it.
The duration of your Yellow Belt training will depend on whether you study online, book a classroom course or are taking an in-house course.
Learning outcomes
Lean Six Sigma Yellow Belt training is beneficial to you and to your employer. You'll gain the skills to participate in improvement efforts that can have huge financial and cultural benefits. Your employer will reap the rewards of those improvements.
Individuals with Lean Six Sigma training are in high demand due to the positive impact they have on the organisations they work for.
Following completion of the Lean Six Sigma Yellow Belt Training Course, you will be able to:
Explain Lean Six Sigma, DMAIC and essential problem solving to others
Solve problems permanently using the DMAIC approach
Apply essential problem solving tools
Understand the importance of data and how to collect it effectively
Solve simple projects using Lean Six Sigma principles
Assist Green and Black Belts when they are running a Lean Six Sigma project
You'll get 10 internationally recognised CPD points by taking our accredited Yellow Belt course.
This is a CSSC Accredited Yellow Belt™. 100% Effective certification is included in the price and requires completion of our online exam. However, some delegates may wish to get their qualification endorsed by CSSC. The only method to earn a CSSC certification is to successfully sit and pass an official CSSC Certification™ exam.
Who should attend?
Lean Six Sigma Yellow Belt training is an introduction to Lean Six Sigma and will give you the skills to participate in small improvements. It is an essential introduction to the topic and has applications across a broad range of positions and industries.
We have a guide for selecting the right course here, but if you'd prefer to speak to someone call us on 0800 066 3749 or use our live chat function.