The Business Improvement Academy
Unlimited access to our library of online courses
Training is vital for anyone and any business, however it can be costly and time consuming. 100% Effective have developed the perfect solution. For a monthly fee you can get access to state of the art, engaging, interactive online training. Each eLearning course provides full certification (exams + certificates).
With 99+ courses available, covering management development, change management, business improvement and personal development, this academy offering will have everything you need.
Full Library of Courses
From only £119 per month
Cancel anytime, there's no minimum term

Unlimited access to all online courses

Exams and Certificates included with every course

£119 per month (worth £3,200)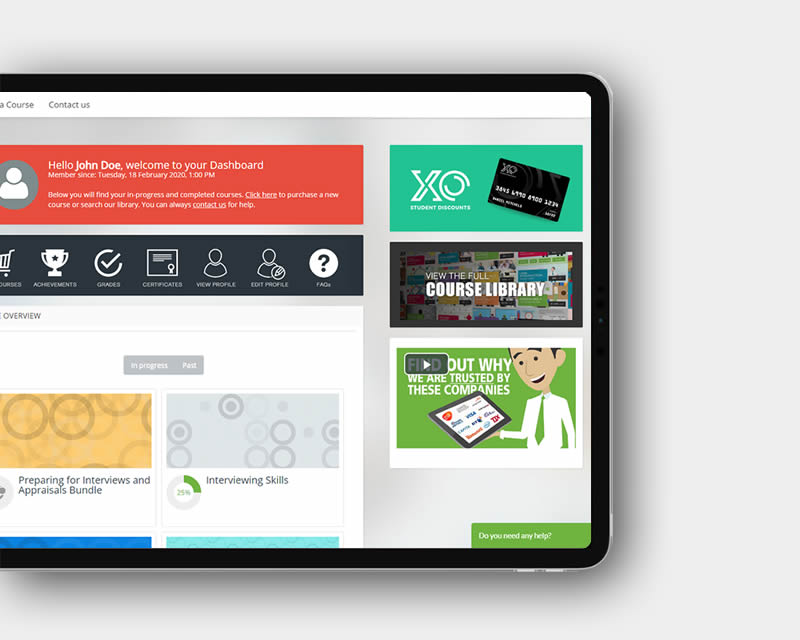 What's included in the eLearning Academy?
Access to the FULL course library for the duration of your subscription. There's no limit to how many courses you complete.
Keep on track with our intuitive activity reporting. Know exactly how far through the course you are.
ALL courses include an exam allowing you to test your learning, and are provided with a certificate of training.
Get access to all of these courses
All of our personal development, management development and soft skills courses are included in our eLearning Academy. We've also included the Lean Six Sigma Yellow Belt (£199), Green Belt (£995) and Black Belt (£1,350) courses into the bundles.
See the full list of included courses below, and choose the best bundle for your requirements.
SILVER Bundle
£119 per month
90+ courses (including Yellow Belt)

Cancel anytime, there's no minimum term

Unlimited access to the entire training library

Exams and Certificates included with every course

Access provided within 48 hours
| | | | |
| --- | --- | --- | --- |
| 1 | 5S | 2 | 8 Wastes |
| 3 | Action Planning | 4 | Active Listening |
| 5 | Activity Flow Charts | 6 | Advanced Hypothesis Testing |
| 7 | Affinity diagrams | 8 | Analysis of Variance |
| 9 | Body Language | 10 | Body Language – Reading Body Language as a Sales Tool |
| 11 | Brainstorming | 12 | Brainstorming and Brainwriting |
| 13 | Building High Performance teams | 14 | Building your Personal Brand |
| 15 | Champion Training | 16 | Change curve |
| 17 | Check sheets | 18 | Coaching Skills |
| 19 | Communication Skills | 20 | Conducting Effective Performance Reviews |
| 21 | Confidence Intervals | 22 | Confirming improvements |
| 23 | Conflict Resolution | 24 | Conquering Your Fear of Speaking in Public |
| 25 | Correlation and Regression | 26 | Creative Thinking |
| 27 | Cycle Time and Critical Path Analysis | 28 | Data Collection |
| 29 | Effective Meetings | 30 | Establish an implementation plan |
| 31 | FMEA | 32 | Frequency plots |
| 33 | Gemba Walk | 34 | Generate Solutions |
| 35 | Giving and Receiving Feedback | 36 | How to work out percentages |
| 37 | Implementing Pull | 38 | Influencing Skills |
| 39 | Interviewing Skills | 40 | Intro to Lean |
| 41 | Introduction to Hypothesis Testing | 42 | Introduction to Six Sigma |
| 43 | Introduction to Statistics | 44 | Kaizen Introduction |
| 45 | Kano | 46 | Kotter 8 Steps |
| 47 | Kurt Lewin 3 phase model | 48 | Lift speeches |
| 49 | Little's Law | 50 | Maslows Hierarchy of needs |
| 51 | Mind Mapping | 52 | Mistake Proofing |
| 53 | Negotiation Skills | 54 | Networking for Success |
| 55 | Non Parametric Statistics | 56 | OEE – Overall Equipment Efficiency |
| 57 | Pareto Charts and Pie Charts | 58 | Presentation Skills |
| 59 | Pressure Management | 60 | Prioritisation in Problem Solving |
| 61 | Problem Solving (TEAM BASED) | 62 | Process Balancing |
| 63 | Process Mapping | 64 | Process Sequence Charting |
| 65 | QFD | 66 | Questioning Skills |
| 67 | Reduce Complexity | 68 | Sampling |
| 69 | Scatter plots | 70 | Self-esteem Assertiveness |
| 71 | SMART Goals | 72 | SMED |
| 73 | Solution selection matrix | 74 | Spaghetti Diagrams |
| 75 | Sipoc Charts | 76 | Stakeholder Analysis |
| 77 | Standardisation and training | 78 | Stress Management |
| 79 | Swimlane diagrams | 80 | Systems Thinking |
| 81 | The role of Statistical Analysis | 82 | The Practical Trainer |
| 83 | Theory of constraints | 84 | Time Management |
| 85 | Time series plots | 86 | Toyota Production System |
| 87 | TPM – Total Productive Maintenance | 88 | Two Sample T-Test |
| 89 | Visual Management | 90 | Voice of the customer |
| 91 | Workstation Analysis: Ergonomics | 92 | Yellow Belt |
GOLD Bundle
£179 per month
99+ courses (including Green and Black Belt)

Cancel anytime, there's no minimum term

Unlimited access to the entire training library

Exams and Certificates included with every course

Access provided within 48 hours
1
5S
2
8 Wastes
3
Action Planning
4
Active Listening
5
Activity Flow Charts
6
Advanced Hypothesis Testing
7
Affinity diagrams
8
Analysis of Variance
9
Black Belt
10
Body Language
11
Body Language – Reading Body Language as a Sales Tool
12
Brainstorming
13
Brainstorming and Brainwriting
14
Building High Performance teams
15
Building your Personal Brand
16
Champion Training
17
Change curve
18
Change Manager Skills
19
Check sheets
20
Coaching Skills
21
Communication Skills
22
Conducting Effective Performance Reviews
23
Confidence Intervals
24
Confirming improvements
25
Conflict Resolution
26
Conquering Your Fear of Speaking in Public
27
Correlation and Regression
28
Creative Thinking
29
Cycle Time and Critical Path Analysis
30
Data Collection
31
Designed Experiments
32
Effective Meetings
33
Establish an implementation plan
34
FMEA
35
Frequency plots
36
Gemba Walk
37
Generate Solutions
38
Giving and Receiving Feedback
39
Green Belt
40
How to work out percentages
41
Implementing Pull
42
Influencing Skills
43
Interviewing Skills
44
Intro to Lean
45
Introduction to Hypothesis Testing
46
Introduction to Six Sigma
47
Introduction to Statistics
48
Kaizen Facilitation
49
Kaizen Introduction
50
Kano
51
Kotter 8 Steps
52
Kurt Lewin 3 phase model
53
Lean Practitioner
54
Lift speeches
55
Little's Law
56
Maslows Hierarchy of needs
57
Mind Mapping
58
Mistake Proofing
59
Negotiation Skills
60
Networking for Success
61
Non Parametric Statistics
62
OEE – Overall Equipment Efficiency
63
Pareto Charts and Pie Charts
64
Presentation Skills
65
Pressure Management
66
Prioritisation in Problem Solving
67
Problem Solving (TEAM BASED)
68
Process Balancing
69
Process Mapping
70
Process Sequence Charting
71
QFD
72
Questioning Skills
73
Reduce Complexity
74
Sampling
75
Scatter plots
76
Self-esteem Assertiveness
77
SMART Goals
78
SMED
79
Solution selection matrix
80
Spaghetti Diagrams
81
Sipoc Charts
82
Stakeholder Analysis
83
Standardisation and training
84
Stress Management
85
Swimlane diagrams
86
Systems Thinking
87
The role of Statistical Analysis
88
The Practical Trainer
89
Theory of constraints
90
Time Management
91
Time series plots
92
Toyota Production System
93
TPM – Total Productive Maintenance
94
Two Sample T-Test
95
Value Stream Mapping
96
Visual Management
97
Voice of the customer
98
Workstation Analysis: Ergonomics
99
Yellow Belt