We're now well into our series on our favourite Lean tools, and this week we're speaking to Business Support Manager Sarah. We're already found out what Sophie's favourite 'little' tool is, how Chris' ability to organise has been transformed, and how Philippa's favourite tool can increase productivity at home and at work.
So what is Sarah's favourite Lean tool and why?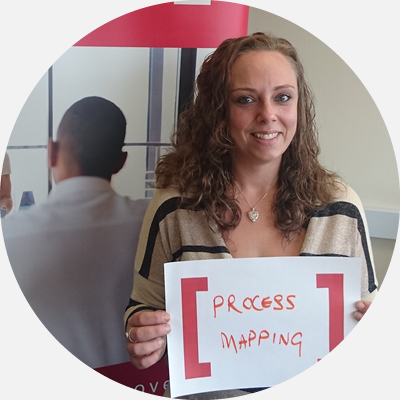 Name: Sarah
Role: Business Support Manager
Lean tool of choice: Process Mapping
"I've always had a natural appetite for improving the way things are done, a common sense approach to making existing processes more efficient and less time consuming, and with a background in Customer Service, a genuine passion for improving the end user experience. After joining 100% Effective and attending various Business Improvement courses, it's no surprise to anyone that my favourite tool quickly became Process Mapping (I'm concentrating on the benefits of current state process mapping here).
Why do I love it?
It's collaborative.
This isn't just the best way to work in terms of making sure you understand a process from all angles and everyone's contribution to the process is considered and respected, but it's also fun and often serves as a team-building exercise. It leads to each individual involved in the process having a more rounded view of it as a whole.
It's quick.
A full scale Lean Six Sigma DMAIC project is not always required to solve a problem. Although it's of great benefit to collect and analyse data to identify the root cause of a problem, some organisations aren't ready (practically or culturally) to train for long periods of time and run projects to this depth. The basic principles of process mapping as a standalone tool are easy to get to grips with and any team can have a go (in fact if you haven't mapped any of your processes before, grab some post-its, book your next team meeting in, and take this as a challenge to do so!).
It's revelatory.
Creating a map of a process, as it currently is, will often highlight steps within that process that can be either eliminated or changed quickly, leading to near-instant improvements for the customer.
A swimlane diagram, for example, helped make me aware of how many different departments a particular process was moving through, a process that was completed several times every day. I immediately spotted an opportunity for one department to complete more of the work, reducing work in process and workload for several staff, reducing handoffs and therefore delays in the process, and ultimately reducing lead time. The discovery was made in an afternoon, a future state map created and shared, and because everyone involved in the process was part of the mapping activity and agreed the simple changes there and then, by the end of the week everyone was working to the new process, and customers were telling us they were happier with our output.
Another way Process Mapping can help is by placing symbols on your map where most issues occur within the process (from the perspective of all involved), and identify bottlenecks and the possible causes of them. Quick wins like this often help to shift a mindset into one where team members are more comfortable challenging the status quo, and more inclined to spot opportunities for, and suggest improvements to, other processes within the business.
Deming stated: "85% of the reasons for failure to meet customer expectations are related to deficiencies in systems and processes…rather than the employee. The role of management is to change the process rather than badgering individuals to do better." If a process isn't as good as it can be, it doesn't matter how well you teach your employees about their role within it, problems will still arise and customer satisfaction will be affected (not to mention staff morale). Significant growth of a business often happens at pace, and if processes are not reviewed and consistently improved, scaling them causes myriad problems which can inhibit further growth and limit profitability.
A few simple Process Mapping sessions can help a business start to uncover their hidden factory, engage staff in improvements which will not only reduce their workload but also help them satisfy their internal and external customers, and get everyone enthused for continuous improvement which, when deployed correctly will help your business become best in class."