Increase your training budget by 25%
The Training Bank allows you to pre-purchase training credit which you can then draw down on throughout the year, for unlimited training options.
Use your credit for online courses, classroom training, in-house, consultancy, coaching, modular learning or even completely bespoke training solutions, all with the convenience of a single purchase order.
Depending on the amount of credit you purchase through the Training Bank, you'll get up to £23,749 additional training credit absolutely free. No matter how much credit you purchase, you'll be entitled to additional credit that will help your training budget stretch even further!
And, as the credit is available across a 12-month period, you can plan your training to fit around your own unique requirements and business obligations.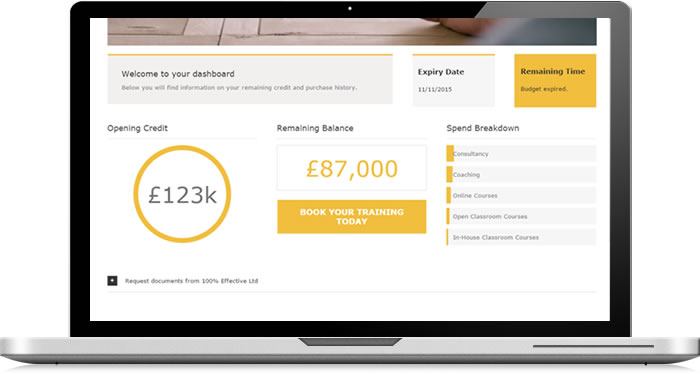 Increase your budget by 25%.

Use your budget on ANY of our products or services.
Create your own personalised Business Improvement solution.

We have 35 different Business Improvement training courses.
The figures
| Pre-Purchase amount | Added value | Maximum extra credit amount | Maximum total credit to spend |
| --- | --- | --- | --- |
| £20,000 – £34,999 | 15% | £5,250 | £40,249 |
| £35,000 – £49,999 | 17.5% | £8,750 | £58,749 |
| £50,000 – £64,999 | 20% | £13,000 | £77,999 |
| £65,000 – £79,999 | 22.5% | £18,000 | £97,999 |
| £80,000 – £94,999 | 25% | £23,750 | £118,749 |
| £95,000 + | On application | | |
If you're interested in purchasing through the Training Bank, we'll help you assess your unique training requirements to determine the best approach to Business Improvement in terms of your culture and training budget.
100% Effective will then partner with you to deliver your training and ensure you are maximising your available credit. The 12-month period starts from the moment we receive cleared funds and can be used for any of our training options.
You'll receive regular updates about your remaining credit and how your Business Improvement training plan is meeting your initial objectives. We'll work with you to accurately measure the real return on investment in Business Improvement training at your organisation, to help you in your role.
Plus, you can log into your personal Training Bank Dashboard at any time to see how much credit you have available, and how the credit you've used so far has been allocated. Your Dashboard helps you stay in control of your credit and ensure you really make the most out of it.
Everyone trained through the Training Bank also benefits from the same lifetime support we offer all of our delegates. So if they need support with their Business Improvement career next year, or in ten years, we'll always be there to help.
You can take any of our existing courses in any of the following formats:
Online training

Public training throughout the UK

Tailored in-house training

Webinar training

Kaizen Rapid Improvement Workshops

Consultancy

Specialist Lean Six Sigma courses