With the rise and rise of online property sites, the way estate agents market properties has had to change dramatically in the past decade.  Combined with the housing market crash in 2007, it has been a tough few years for the property industry. However, one stalwart against the rise of technology has been the floorplan – with the industry retaining the traditional practice of drawing them by hand, on site, with a pencil and graph paper.
That is, until now.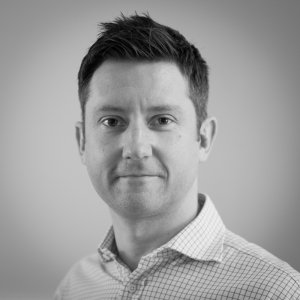 York-based property photography and floor plan business Exposure Property Marketing have implemented and helped to develop an innovative software solution that has the potential to transform floorplan production. Named PlanEdge, it has already delivered cost-avoidance savings of £10,000 and saves the company more than 1,000 man-hours per year.
Sean Elliott started Exposure Property Marketing in 2006 following a background as an estate agent and property photographer. The company now boasts five full-time members of staff and a loyal client-base.
However, the story was a little different five years ago. As a sole trader, Sean found that his ambitions for growth were being held back by his use of the "traditional and industry-favoured way of sketching floorplans using a laser measure, graph paper and a pencil".
"This method
[of drawing floorplans] is relatively accurate and quick, however there is a lead-time and cost involved in translating it into CAD to produce a finished plan," he explains.
As the company grew, Sean found that the method of converting a pencil sketch in CAD was becoming unsustainable due to the time it was taking. Outsourcing was not an option due to the cost involved and the high potential for errors in interpretation, and it was essential to keep the business lean during a tough housing market so hiring more staff was not an option.
Creating PlanEdge was driven directly by the costs and time taken to re-draw floorplans in CAD. We now draw plans on-site, once, and they are finished as we leave the property. We still retain control and accuracy has been greatly improved as PlanEdge allows us to capture floorplans with a level of detail not possible with pen and paper.
With the help of new business partner and director of IT company Boxcubic, Lee, a decision was made in 2009 to look to technology to fix the issue. However, it wasn't as straightforward as using existing on-site digital floorplan applications:
"They're intended for use by surveyors and architects, so while they do provide an accurate way of drawing the floorplan they are slow and difficult to use. The end result is a CAD file which still needs manually editing to add labels, dimensions and colours."
It wasn't good enough:  Sean and Lee would need a bespoke solution.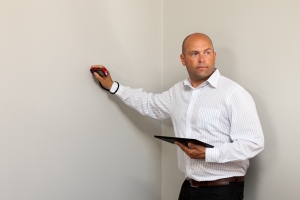 So began the journey to create PlanEdge. Now the work is complete and the company has been trialling the new software for 18 months, the results have been nothing but positive. The system allows the user to draw a floorplan on a Windows 8 Tablet directly on the screen with a finger or stylus.
Pairing the tablet with a Bluetooth enabled laser measure ensures dimensions are recorded correctly and allows all elements of a property to be measured quickly and accurately – including wall thickness, doors, windows and fixtures and fittings. An inbuilt layout editor allows you to label rooms, add measurements and change colours quickly and easily.
"PlanEdge has revolutionised our workflow. Each photographer now draws the floorplans on site and can check they are completely accurate before leaving the property," Sean explains.
Once finished, they can use the cloud-based file transfer system which ensures when they return to the office the floorplan is waiting for them on their PC to be finalised.
"The plans take a matter of minutes before they can be dispatched to the client."
Using the traditional method of transferring paper sketches to CAD took between 45-60 minutes each, longer for more complicated buildings. Introducing PlanEdge has reduced the working day by several hours – an important factor in a time-sensitive industry.
"It's difficult to measure, but I would estimate that we are saving 1,000 hours per annum for three full-time photographer/floorplanners."
Watch this video to learn how PlanEdge works. 
However, it's not just  time that has been saved. The move to a bespoke software prevented the need to outsource – allowing them to avoid a £10,000 per year outlay – and improved the accuracy of the floorplans they produced.
"PlanEdge is, without a doubt, more accurate than pen and paper; there is no more ambiguity about measurements as every detail is measured on-site. In difficult or complicated buildings this has been particularly advantageous.
"Now it is immediately obvious if something has been measured incorrectly, whereas with pen and paper this can often only become apparent when the plan is drawn in CAD – once you've left the property. This inevitably leads to revisits, which don't just cost us time and money but also inconveniences the customer."
Following such a big success internally, Exposure Property Marketing and Boxcubic have now launched the software so that other property marketing firms and estate agents can benefit. Two months after the launch and it has been very well received.
"We have a number of companies trialling the software and the feedback so far has been fantastic," Sean says.
The use of technology to solve a bottleneck in the business is the perfect example of how organisations can use Lean thinking to make their processes more efficient and, consequently,  more cost effective. One small change to the way something is done has generated huge improvements for Exposure Property Marketing – and the same principles could work for your business.
So what next for Exposure Property Marketing and PlanEdge – watch this space according to Sean. With a number of new developments and features in the pipeline, there are high hopes that 2015 could be even bigger than last year.
If you'd like to learn about how Lean Six Sigma training can help you identify areas to improve your business, get in touch on 0800 066 3749
Have you got a great story about your journey to becoming a leaner, more effective business? We'd love to hear it!