£950+vat 

This online course has:
6 months access
40-70 hours of study
Proof of experience required
Exam included (unlimited retakes)
2 hours coaching
Optimised for all devices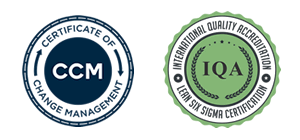 Become a certified Lean Six Sigma Green Belt, by upgrading your 100% Effective Yellow Belt qualification. This Lean Six Sigma Green Belt Upgrade training course will take between 40 and 70 hours to complete, including time to apply your learning to a project. With around 25 hours of online lessons, 15 hours of exercises and 30 hours to apply your learning this is the best training course for anyone who is looking to upskill to Lean Six Sigma Green Belt level.
Our Green Belt Upgrade training covers both the technical aspects of Lean Six Sigma, but also the all-important softer Change Management skills needed to ensure a solution is accepted into your organisation. Upgrading your Yellow Belt to Green Belt course without learning how to ensure your solutions are accepted will lead to frustration and wasted effort. Don't just learn the theory, learn how to apply your learning and be effective.
Those who certify by applying solutions to real projects have the most marketable skills, as they have already proven themselves to be successful.

This eLearning Lean Six Sigma Green Belt Upgrade course also provides you with two hours of one-to-one coaching when you need it, lifetime support and a FREE online Yellow Belt to pass on to a team member. This offer is unmatched by any other training provider.
If you have four or more delegates in your organisation who are looking to upgrade to Lean Six Sigma Green Belt level, our in-house option is the most convenient, cost-effective and productive way to provide training and certification to employees.
Each in-house Lean Six Sigma Green Belt Upgrade training course we deliver is created to fit with your exact company requirements. We will design a course to take into account your past experience, culture and history to provide you with a learning experience that works for you. We can alter the structure, approach and adapt the tools covered to make it your training course.
To find out more about in-house Green Belt Upgrade training, click the enquire button or get in touch.

For those looking to purchase this Lean Six Sigma Green Belt Upgrade course for several individuals, we recommend enquiring about our multi-buy discount. Simply contact us directly or fill in the form below and one of our team will be in touch with a cost-saving quotation.
Here are the most recent reviews, to view the full list click here.
It reinforced my belief that integration into my business is essential
The training from 100% effective provided me with an underpinning understanding of Lean Six Sigma and the confidence to use the methodology to improve our company's processes and procedures.
Really enjoyed the course
The training was delivered in an engaging way allowing topics that might otherwise be dry and difficult to be engaging and accessible.
The training was very in-depth and interactive, which allowed me to learn a great deal whilst still keeping it fun and engaging.
Easily accessible, I was able to studying around my working day and during the evenings at my own leisure. The support from the black belts was brilliant they would break down any questions/queries I had on the different subjects, increasing my understanding of each subject by tenfold.
Very informative, awesome new skills learnt and I have been given the opportunity to present them
Really high online learning experience which I would recommend to everyone who wants to study LEAN or LEAN Six Sigma Green/Black
Best training course I have been in years, incredible trainer and a 100% useful learning experience!
Quality materials brought to life by excellent trainer.
A very rewarding week, learning new concepts and process improvement methodologies! Now onto practice in action!
Mike is extremely knowledgeable, able to answer any question thrown at him. Always willing to take time to explain something again and again, finding different ways to illustrate a point until it was understood.
Very knowledgeable engagement with active participation encouraged. An exhausting week.
Mike's enthusiasm for LSS really comes through and makes the training enjoyable … even the stats!
Trainer provided good examples to illustrate some of the more confusing statisitcs

Lean Six Sigma Green Belt Upgrade