£
200
+vat 

This online course has:
3 months access
Length 6.5 hours
Exam included (unlimited retakes)
Optimised for all devices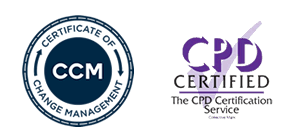 Build your change management toolkit with our online Change Manager Skills course. Consisting of 23 interactive eLearning modules, each covering the essential tools and techniques for managing change successfully, the course will prepare you for the challenge of change.
With knowledge checks, games, and case studies along the way, the course is as enjoyable as it is effective. Entirely online and with expert guidance at your fingertips, you can develop your new set of change management skills at your leisure. Taking around 10 hours to complete and with 3 months access, you will have plenty of time to enjoy, revisit and revise each of the topics. On successful completion of the course you will receive 10 CPD points and a certificate. You will also continue to benefit from access to our lifetime support.
Please note that this Change Management Skills course is accompanied by a British English voiceover and is optimised for all devices.
With change management skills now an integral part of many organisations' training, we offer the option of in-house Change Manager Skills training. This service sees our Business Improvement experts deliver tailored training to your doorstep, allowing multiple employees to learn conveniently and often more cost-effectively.
As we work with you to deliver a Change Manager Skills course specific to the needs of your company, the pricing for the bespoke service varies. If you are interested in in-house Change Manager skills training, call 0800 066 3749 or click the 'Enquire now' button above.

For those looking to purchase this Change Manager Skills Course course for several individuals, we recommend enquiring about our multi-buy discount. Simply contact us directly or fill in the form below and one of our team will be in touch with a cost-saving quotation.
Here are the most recent reviews, to view the full list click here.
Excellent on-line Black Belt course which I really enjoyed. MBB responses to queries & submissions were quick, & general support was very good. I'd recommend the on-line training through 100% Effective to others.
Very enjoyable and comprehensive. The feedback on project work from the Master black belt challenged me to look further and deeper into answers I initially provided.
The Black Belt Upgrade was the natural progression to take from the Green Belt course. The content and material presented was clear. Support was fast. The MBB is clearly experienced and knowledgeable. A fantastic online learning environment.
it was interesting, but a lot of information, needs to be used in practice to verify
A great course that has really helped me in doing my job better. A rigorous focus on data is useful for any manager
A really enjoyable challenge excited to get going!
The instructions in the case studies were not always clear- otherwise i really liked the new format- interactive, it keeps you motivated and "entertained"
Good content, a bit inconsistent in time spent on each topic
Very good training experience and nice balance between theory delivered and practical exercises and application of the knowledge.
A fantastic online course with a real "human" support which makes it easier to follow. It has been a great experience!
A very good way of learning LSS with real life practical examples given by a trainer with vast experience conducting LSS projects and a theoretical knowledge that ensured he could answer all our questions with high quality answers
Intense. Discussions were initiated but we had no time to complete them
very comprehensive and enjoyable
The overall 'eLearning Black Belt Course' from 100pceffective experience has been a good one. The course has a great balanced mix of audio/visual and practical activities in lots of LEAN Six Sigma fields. You have the ability to set your own pace naturally within the timeframe of the course. The support and communication from 100pceffective has been second to none. I would recommend the course on your LEAN Six Sigma Journey.
The LSS eLearning provided some very concrete and easy-to-follow tools and techniques to help understand and practice in real day to day situations. The quality of the content was excellent and material easy to download. The employees who used the eLearning all gained valuable experience and confidence.
I was not fortunate enough to work in an environment which practised six sigma and thought I would not be able to complete the course, however, I found the case studies included in the training to be very easy to understand and the support from the MBB is second to none.

Change Manager Skills Course