£
1,150
+vat 

About the classroom course:
Duration: 3 days + online study
Free online Change Management course
Two hours coaching
Bi-monthly drop-in surgery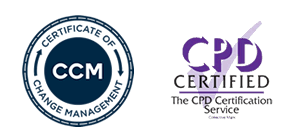 Our Change Management training course is a highly interactive, hands-on, and engaging course. Designed and delivered by our Business Improvement experts, the course sees delegates understand and overcome their previous challenges with change management and gain the skills they need to successfully implement initiatives.
The three-day classroom course is supported by interactive eLearning. Delegates are also provided with a two-hour coaching session at a time of their choice. During this one-to-one coaching session, our experts help to resolve any ongoing challenges. To ensure their continued success, all delegates will also receive unlimited lifetime support . This grants access to our bi-monthly drop-in surgeries, in which our Business Improvement experts are available to provide further guidance.
On completion of the course, delegates will receive a certificate to demonstrate their training and 50 CPD points.
Change Management training is fast becoming an integral part of company-wide training. For those looking to train multiple employees, our in-house Change Management training often proves the most convenient and cost-effective option.
Our in-house Change Management training is tailored to you and delivered to your doorstep. Your business will benefit from the dedicated attention of our Business Improvement expert. Also, employees can learn while exploring and resolving organisational issues with change.
Click the button above to learn more about our in-house Change Management training. You can also get in touch on 0800 066 3749 to talk to one of our experienced advisors.

For those looking to purchase this Change Management Training Course course for several individuals, we recommend enquiring about our multi-buy discount. Simply contact us directly or fill in the form below and one of our team will be in touch with a cost-saving quotation.
Here are the most recent reviews, to view the full list
click here
.
Hugely insightful and revealing
The MBB training was thought provoking and challenging. I look forward to my certification.
Demanding, tough though totally necessary course delivered with skill and empathy.

Change Management Training Course