We know how tough it can be to pick the right Lean Six Sigma course.
With so many training providers around and with prices rarely providing a reliable indicator of value, it can be tough to know which course is going to give you the best training for your money.
So how can you compare training courses when it's not always clear what's included?
Our Lean Six Sigma Training Supplier Comparison form is the solution.
This completely free download allows you to compare up to six training providers, based on what is important to you rather than some predetermined specifications.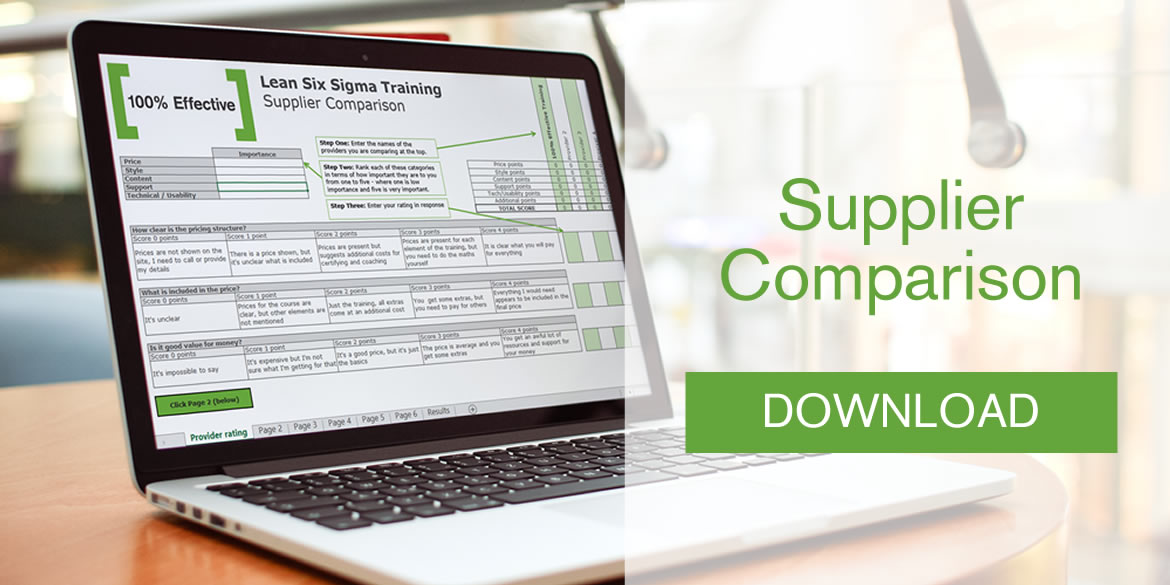 1) Providers to compare
First of all, enter the six training providers you wish to compare.

2) Importance rating
Now consider what you want from the course. Is price your main deciding factor? Or do you think you'll need more support? Rank price, style, content, support and technical/usability on a scale of one to five based on how important they are to you.

3) Score each provider
Now, run through each question, and assign your respective training providers with a score based on the explanations given. Points are taken away when there is a lack of information, and provided when you know the answer – with the best scores awarded for clarity and value.

4) Navigation
There are six pages of questions, which can be navigated by scrolling through the tabs along the bottom of the document.

5) View the results
On the final page you'll see how each provider scored on a range of issues, and how they rank against your personal criteria. The number one should be the best training provider to suit your personal circumstances.

We hope it will always be 100% Effective that comes out on top, but we've provided this free document to help you make an unbiased decision based on data – which we think is a fitting tribute to the Lean Six Sigma teachings.