A sign of our quality
Many professionals need to practise continuing professional development each year in order to remain in their profession, keep their membership of a professional body or to progress to the next step in their career.
CSSC (Council for Six Sigma Certification)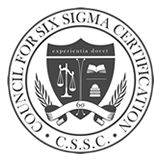 100% Effective is a CSSC Accredited Training Organisation. Our Lean Six Sigma Green and Black Belt courses have been accredited as CSSC Certified Green Belt and CSSC Certified Black Belts.
This means that our training has been assessed by the CSSC and they have confirmed it meets their standards for certification. If you have completed a Lean Six Sigma Green or Black Belt qualification with us, we can arrange for you to sit the CSSC exam in order to have your qualification accredited by the CSSC.
Some people specifically request a CSSC accredited qualification, however as 100% Effective follows the best practice approach to certification – detailed here – you do not need to take this additional step in order for your certification to be recognised by employers or practitioners.
BQF and ASQ
Our training conforms to the BQF and ASQ book of knowledge. Just as with the IASSC, BQF and ASQ certification is not a necessary requirement, and the 100% Effective best practice approach to certification detailed here is more than enough to be considered certified by future employers and practitioners.
100% Effective delegates that have completed training with us could comfortably pass the necessary exams if they wish to get their qualification endorsed by a third-party certification body.